Looking for inspiration?  Here are five great location ideas for family photo sessions.
So you're thinking about a family photo session but you need a little inspiration!  Location photo sessions are so flexible. With lots of options and space for children to move around, they're perfect for young families. Here are five great location ideas to whet your appetite.
1. At Home
Your home is a perfect location and the familiarity will help everyone relax. You also have the benefit of having everything on hand. If you spill a drink or fancy a new outfit – it's easy to pop upstairs for a quick change!
Have a think about your favourite spots in your home as well and how the light changes throughout the day. It's worth having a quick clear up beforehand if you have the time. We'll have more space to set up the shots plus we'll get photos with clean and interesting backgrounds. You don't want your home to feel too clinical though, it still needs to reflect your personality.
In some homes, space and light may be an issue. Have a think about your home and whether it lends itself to a photo session. Small can be beautiful, so don't rule out a home location if you feel it's right for you.
You may love your home but just prefer somewhere different. Or maybe you prefer a location that creates a different mood. Family life can be hectic, so going somewhere new can energise everyone and make it more of a fun experience.
2. A location that reminds you of a special time
Life is full of landmark events. It may be our teenage years, graduating from university, meeting someone special or starting a family. Along the way we meet amazing people, form close friendships and go to special places.
These places are often connected with memorable life events. We may go back to the city where we studied, revisit a place that reminds us of someone special, or return to where we got married. Locations are like music – they can take us back and unlock memories. These are personal memories and they can be really powerful.
I recently photographed a family with their two young boys at the church where they got married. Mum and dad have a photo from their wedding day and they were keen to recreate the scene with their young family. We took lots of other photos too, but it was the location that sparked the idea for the session.
Is there a place you love that reminds you of someone special?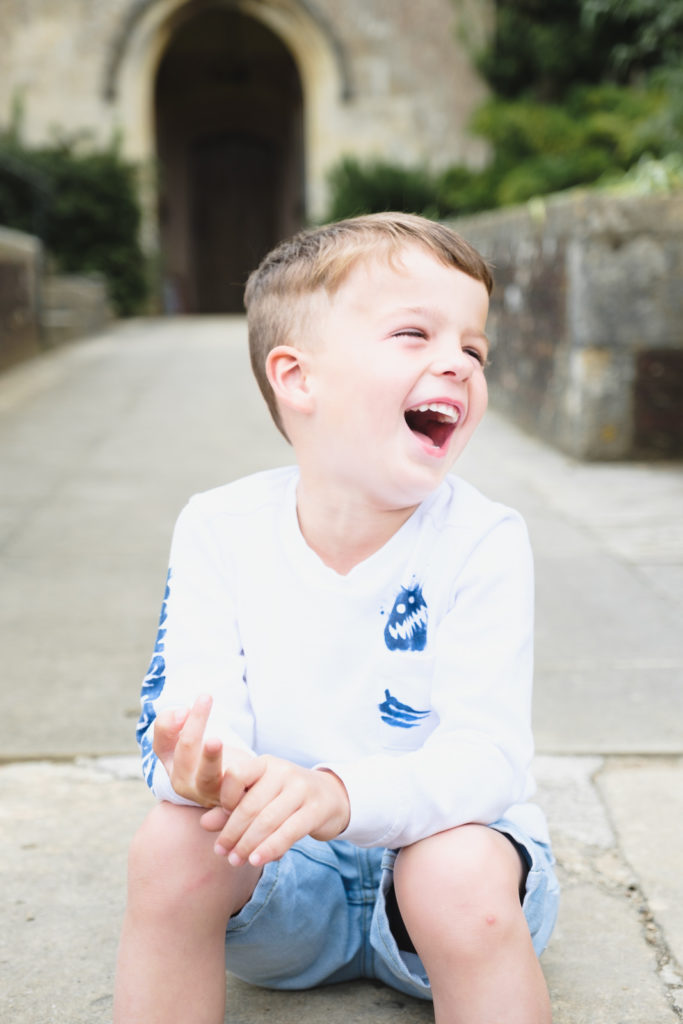 3. Somewhere the whole family will enjoy
If you're struggling to choose a location, a country walk is a great starting point. It could be a walk with the dog, somewhere the children can climb trees or a beauty spot with amazing views.
When children have the freedom to move around, they're focussed on having fun and enjoying themselves. This helps to keep them engaged, allowing you to capture wonderful relaxed and natural photographs.
Here's an example of how a family from Wiltshire with three children approached their photo session.
Mum and dad knew their children were lively. They considered a studio session, but felt the confined space and the schedule wouldn't work for them. As they considered the options they realised they were an outdoor family. That's when everyone was at their happiest. So they chose the Westbury White Horse, an outdoor location they all loved.
It was clear during the session they'd made the right choice. The children were energetic and I was able to photograph them having fun while they played. As the energy levels changed we saw more intimate moments with hugs and cuddles.
Afterwards the family were so pleased. We were able to combine the photo session with a fun experience in a place they love.
The photo session with Nick was everything we could have wished for. The children all warmed to him straight away, because of his calm, friendly approach. His communications before-hand ensured he understood what would work best to capture our family in the best light. We couldn't be happier with the whole experience. An amazing time in our favourite area, with wonderful memories and beautiful images. Thank you Nick!
4. Getting together on holiday with friends and family
Many of us live in the city. We may have moved somewhere new for work and often our families live far away. It's become incredibly popular for families and groups of friends to reconnect with each other away from home. Country hotels and large country houses are popular choices, making a weekend break an affordable choice.
It's also a great opportunity to arrange a family photo session. You're in a beautiful location, you have more space than at home and you're relaxed and away from the pressures of work and home life.
I recently photographed three generations of one family. They all live in different parts of the UK and they came together for a summer holiday. They found a large country house near Bath, a perfect location to celebrate a 70th birthday celebration. One of the mums took on the role of organising the photo session and getting everyone involved. We spent time beforehand discussion the location, getting to know the family and the types of photographs they were looking for.
It was wonderful photographing the family interactions. You can see the special relationship grandparents have with their grandchildren. Unconditional love, without all the responsibilities of being a parent.
Nick photographed our family recently, to capture memories of a family holiday combined with grandparents' 70th birthday celebrations. He put everyone at ease, including some children and adults, who weren't sure they wanted their photos taken. Everyone relaxed into it and enjoyed the experience. He captured some lovely shots.
5. Town vs Country
Rural locations aren't for everyone and towns and cities offer a fantastic range of options to choose from.
The city of Bath is particularly popular, a World Heritage City with stunning architecture.  Many are looking for a photo session that reflects their home town, but they're not looking for a set of portraits outside a tourist hotspot. Some of the best locations are tucked away and hardly visited by the tourists. If you take a ten minute walk from the town centre you'll find plenty of quiet corners for your photo session.
These are a few of my favourites – Sydney Park, the gardens around the Holburne Museum, the canal tow paths nearby and the Botanical Gardens near Victoria Park.
For those looking for more rural locations close to Bath there are some great options to consider including Rainbow Woods, Claverton Down and the Bath Skyline Walk.
Further afield one of my favourites is the Bristol Harbourside with the industrial architecture on the waterfront.