Would you like a few tips to help you plan your family photography session?
If you like the idea of a family photography session, but you're not sure how to go about it then keep reading. I'll share a few ideas to help you get started.
Who's this for?
This guide is perfect for busy families with young children who want to remember a special time in their lives. If you're looking to capture your family with natural and relaxed photos then this is for you.
Keep reading if you'd like
A few tips to help you feel comfortable in front of the camera.
Pictures of you all together without feeling stiff and self-conscious.
To make sure the little interactions and expressions that tell your story get captured.
To stop worrying about how you look or how your children are behaving.
And how to do all of this while you feel relaxed and have some fun with your family.
A little about me and my approach
Hello, I'm Nick and I help families and businesses tell their story through photography throughout Wiltshire, the Cotswolds, Bath, Bristol and beyond. I'm always looking for authentic moments and beauty in the everyday.
By photographing on location I aim to to create images that have a sense of place – this could be at your home or somewhere outdoors you love.
I think it's really important to take the time to get to know you. We'll talk about your motivations and what you want your photos to say.
In this guide I'll take you though five simple steps to help you get the most out of your family photo session.
Step One – Take some time to consider what you want
To get started, ask yourself why you want a family photo session and consider your preferred photographic style.
Take some time to think about how you'd like to display your photos afterwards. One of the best ways is to have a few of your favourites printed and framed, so you can display and enjoy them around your home every day.
You might prefer to create an album to tell a story with your favourite photos. If you take this route your photographer should be able to advise you on album layouts and prepare customised designs for you.
Maybe you're just looking to update some of your current photo displays and you'd like a selection of new prints so you can swap them over.
Whatever route you take, I would definitely encourage you to print your favourite photos.
Once you're clear what you're looking for it's helpful to share your ideas with your photographer. This will help guide the photo session so you end up with photos that meet your vision.
Step Two – Getting ready for your photo session
There are a few simple things you can do beforehand to get the most out of your session.
Taking some to choose what to wear for your photo session will help to connect everyone in the photos, while the wrong outfits could clash or be distracting.
The day before your photo session try and encourage everyone to get a good night's sleep so you're fully refreshed for the day. It's probably best to avoid parties and sleep overs the night before so your children are bright and fresh! If you have young children you'll know their routine and what times work best for them. If you can, try and plan the session for a time when you know they'll be engaged and alert.
On the day it's worth bringing along a few snacks and a drink for everyone and maybe a pack of wipes for the inevitable crumbs around the mouth!
I recently photographed a young family in North Wiltshire. Keri was keen to organise a photo session with her family and she needed to get everyone on board with the idea. In my post Keri shares some of her reasons for booking a photo session and I talk about how we approached the planning process.
Step Three – Making time for your photo session
Time is often in short supply when you have a young family. If your schedule allows, try and give yourself enough time so everyone feels relaxed and involved in the photo session. By being actively engaged you can have a really positive impact on your family portraits.
It's pretty hard to feel relaxed if you're keeping one eye on the clock because you need to be somewhere else – it will show in the photos. If possible try and avoid booking another appointment straight after your family portrait session, so you can enjoy some family time together.
It's also worth thinking about the best time of day for your photo session. The light is often at its best early in the morning or later in the afternoon, whereas midday sun can be quite harsh. If your schedule allows it's best to plan in your session earlier or later in the day.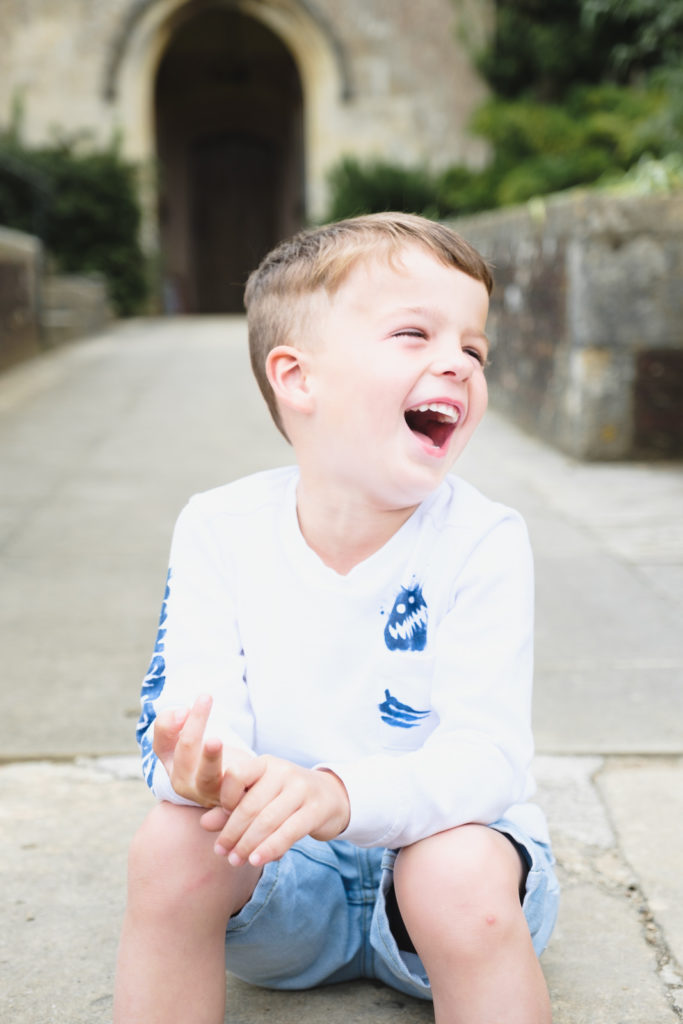 Step Four – Have some fun
This next step is perhaps the simplest but can also be the hardest to achieve.
Trying to not set your expectations unrealistically high will help to reduce any frustration. If you can, try and approach the session with an open mind, have some fun and enjoy the time with your family. Take the mishaps in your stride and have the confidence your photographer will capture beautiful images anyway.
Allow your photographer to guide you and do what they do best. Let them suggest locations, frame the shots and trust they know what will work.
Don't worry about making sure the children look perfect. Trying to encourage your children to look or smile at the camera will just end up with you talking mid-shot, which isn't ideal.
Let your photographer focus on your children which will give you the space to relax and enjoy yourself. Some of the best moments are captured when children are just playing and being themselves, completely unaware of the camera and having fun.
Step Five – Choosing the right photographer
When it comes to planning your family photo session, it's worth searching out the right photographer for you and your family. You'll want to work with someone you connect with – after all you're inviting the photographer into your family.
Take some time to look at their work and their photographic style. What are other clients saying? If they have a Google or Facebook page check out the reviews to get a feel for their approach and the client experience.
If they offer a planning session, use the opportunity to share your ideas. Do you come away feeling inspired and confident in their approach?